Genealogy
| | | |
| --- | --- | --- |
| | Fold 3 (at the library) | Fold3 Library Edition provides convenient access to US military records, including the stories, photos, and personal documents of the men and women who served. |
|  Access from Home: | Yes | Use your library card number |
| | | |
| --- | --- | --- |
| | Ancestry.com | Enter a few simple facts about recent generations of your family. We'll use what you enter to try and find more about your family in the world's largest online genealogy collection of historical records and family trees. |
| Access from Home: | No | NOTE: This database can only be accessed at the library. |
HeritageQuest Online

NOTE: For remote access, you need to put an "LD" In front of your library card number (no spaces)

Our HeritageQuest line represents the most comprehensive collection of genealogical and local history information available anywhere. In addition to the entire U.S. federal census, HeritageQuest microform products provide vita
Newspaper Archives

NewspaperARCHIVE is the world's best resource for 
historical and genealogical information. 
Our unique archive spans more than 400 years of family history, 
small-town events, 
world news and more. Explore your family tree and discover your history 
atNewspaperARCHIVE.com, 
the world's largest online newspaper archive.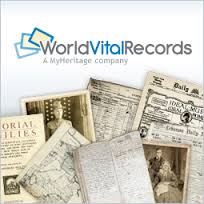 World Vital Records– A massive library with billions of Family History and Genealogy records, and millions of family trees. Access key collections: U.S. Federal Census images and indexes from 1790 to 1940; military records; enhanced Social Security Death Index (SSDI) records; millions of newspaper articles; unique, exclusive local and world collections.


NOTE: For remote access, you need to put an "LD" In front of your library card number (no spaces)
What's in the MyHeritage Library Edition
More than 5 billion historical records from all over the world
The USA federal census (1790-1940) and the UK census (1841-1901) with images
1.5 billion exclusive family tree profiles from MyHeritage and Geni
816 million US public records
Hundreds of millions of Nordic records
More than a hundred million tombstone photos
More than 80 million historical photographs
Military records, immigration records and passenger lists
Citizenship & naturalization records
Directories, guides, references, biographies and yearbooks
Government, land and court records
Wills and probate records
Exclusive databases such as the Jewish Chronicle historical newspaper
Additional content under license including Tributes obituaries, WikiTree, Billion Graves, Canadian Headstones and many others
200 million additional records added on average every month!
NOTE: For remote access, you need to put an "LD" In front of your library card number (no spaces)
| | | |
| --- | --- | --- |
| | Anniversaries | Anniversaries taken from local newspapers |
| | Do You Know? | do you know section taken from the local newspapers. |
| | Births | Births taken from the local newspapers |