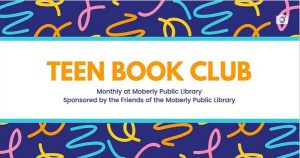 Join Emma and Taylor monthly for Teen Book Club at our Moberly branch. The first three meetings sponsored by the Friends of the Moberly Public Library, which means FREE BOOKS! We have 15 copies to give away, so get there early to get your copy!
June 10: Initial Meeting, distribute Renegades by Claudia Gray
July 8: Discuss Renegades, distribute The Sun is Also a Star by Nicola Yoon
Call Taylor at 660-263-4426 ext 22 if you have any questions!
PS: All of our books are Gateway or Truman Award winners or nominees, so they'll count for your school library or ELA reading assignment!