Keep this one
Nov
16
Tue
Paris Pagemasters Bookclub
Nov 16 @ 4:00 pm – 5:00 pm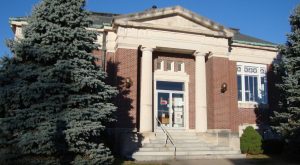 Join the Paris librarians for the monthly Paris book club! Meets the third Tuesday at 4:00.
September Book: The Last Days of Ellis Island by Gaëlle Josse
October Book: The Red Address Book by Sofia Lundberg
November Book: Not My Boy by Kelly Simmons
Download the Missouri Evergreen app to place a hold on these titles!
Brown Bags & Books Book Club
Nov 16 @ 5:10 pm
| | |
| --- | --- |
| Summary, etc.: | "On a hot, hazy summer day, Sarabeth is forced to work her family's farmstand in Arkansas. It was only recently that Sarabeth had a normal teenage life in town, able to see her friends, starting to date–but that was before her parents found God and moved her and her siblings to a farm in the middle of nowhere. Now she has to wear long dresses even in the blistering heat, can't cut her hair, and can't spend time with anyone her age. Sarabeth has become rebellious and wayward, refusing to adapt–then she is taken. Blindfolded and chained to a basement wall, Sarabeth is held captive for weeks by a person she never sees or speaks to, and just when she thinks her life is about to be over, she wakes up along the side of a highway, where she is discovered by a passing motorist. Now an adult, she goes by Sarah, has cut ties with her family entirely, and has made a contented, if solitary life for herself as an adult in St. Louis. That is, until Detective Nick Farrow with the Missouri Highway Patrol Missing Persons calls her, wanting her help to investigate the recent disappearance of a young girl in a case which bears striking similarities to Sarah's own. In this riveting new novel from Laura McHugh, a woman finds that that sometimes our attempt to loosen the ties to our past only bind us further. McHugh enthralls with this suspenseful tale of a woman who pulls a real-life Gone Girl"– |