Choose from a variety of vegetable, fruit and flower seeds to borrow with your Little Dixie Regional Libraries card. Plant them at home or in your community garden, and enjoy the harvest.
Seed libraries are available at all branches of Little Dixie Regional Libraries. Find seeds within the Moberly Public Library, Paris Public Library, Madison Public Library, and Huntsville Public Library. 
What is a seed library?
A seed library is a collection of seeds that you can borrow to plant and grow your own food and flowers at home to enjoy with your friends and family. All seeds are free and open to any garden enthusiasts. 
Please be courteous of others and limit your choices to what you can grow in a season.
What kind of seeds are available?
There are a variety of seeds available that have been donated from community partners including Wal-Mart, Randolph County Health Department and more. Seeds will be available first-come, first-served (while supplies last – the Library will not hold seeds for patrons). Variety availability will change throughout the season.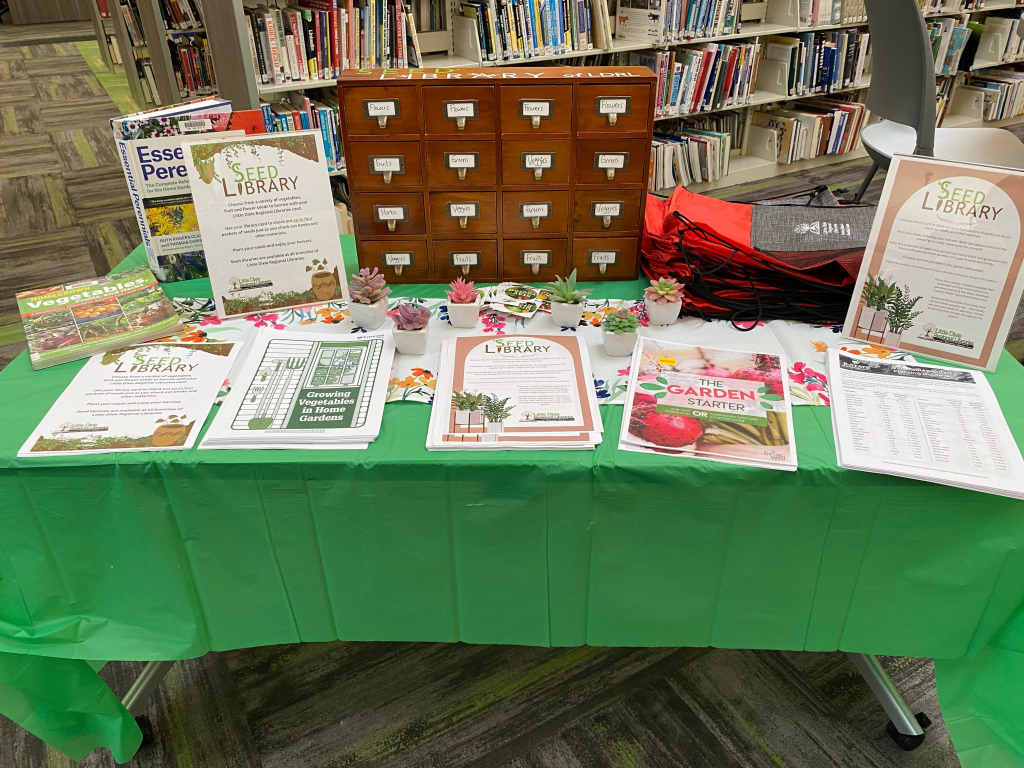 Beans
Tomatoes
Green Onions
Broccoli
Brussel Sprouts
Basil
Carrots
Celery
Okra
Eggplant
Peppers
Turnips
Cucumbers
Radishes
Kohlrabi
Cabbage
Kale
Parsnip
Spinach
Swiss Chard
Lettuce
Pumpkin
Watermelon
Zucchini
Cantaloupe
Squash
Variety of flowers for a Missouri climate
How do I check out seeds?
Use your library card to check out up to four packets of seeds just as you check out books and other materials. Plant your seeds and enjoy your harvest. When the season ends and the plants "go to seed," save some for yourself!
1. Choose the seeds you would like to grow.
2. Take the envelope(s) with your desired seeds from the cabinet.
3. Take the seeds home, plant them, and enjoy your new garden!
Do I have to return seeds?
You are under no obligation to save and return seeds. We want you to learn the basics of gardening and seed saving, first. We are always accepting donations of seed packets for the future and would gladly take any for future gardeners!
Donating seeds or funds to the Library
We are always accepting donations of seed packets for the future and would gladly take any for future gardeners! Some folks may choose to donate monetarily for the future of the seed library and that is amazing as well.
If you are interested in donating some seeds:
1. Packages of seeds can be donated to the circulation desk of any Little Dixie Regional Library branch.
2. If you have any questions, stop by the circulation and reference desk.
*For more on growing for and harvesting healthy seeds, see A Seed Saving Guide for Gardeners and Farmers from the Seed Alliance:
https://seedalliance.org/publications/seed-saving-guide-gardeners-farmers/
Need help with your garden or seed saving? Here are some resources:
See Southern Exposure Seed Exchange's GUIDE (pdf) to when and how to harvest seeds.
Local Resources
Websites
YouTube is a great resource with tons of videos for specific varieties of seeds.
---
The seeds in the LDRL Seed Library were generously funded by Little Dixie Regional Libraries, Randolph County Health Department, Moberly Walmart and other local agencies.